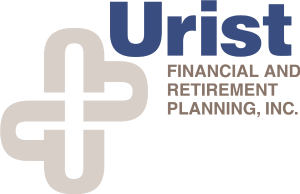 Financial Planning for Inheritance
Receiving an inheritance or life insurance proceeds can be quite overwhelming. The idea of receiving a large sum of money may seem exciting, but the reality can be much different. Often someone close to you has passed away and you are grieving. You might be pressured to share money with relatives, or sense that those around you have ulterior motives. You aren't sure who to trust or what to do.
During this transition, it is important to seek the advice of a trustworthy financial planning firm that specializes in financial planning for those who have received an inheritance. At Urist Financial and Retirement Planning, we want to guide you to make wise financial decisions that strive to help protect not only your money, but also your future. That is why we offer financial planning services for inheritance situations; to help you manage your financial transition after receiving an inheritance.
Urist Financial and Retirement Planning can help you through the process by seeking to provide accurate information on the inheritance by analyzing:
What type of assets you will receive (house, other real estate, a business, stocks and bonds, retirement plans, IRAs or life insurance)
The value of the inheritance
When the assets will be available (immediately or distributed over time)
Tax liabilities associated with the inheritance
As a part of our financial planning services for inheritance, Urist Financial and Retirement Planning can help you answer questions that may include:
What should I do with my inheritance?
Will there be taxes due?
Should I spend, save, pay off debt or invest?
How can I protect my inheritance?
How should I deal with family members who want to share my inheritance?
Should I share this with my spouse or should I keep it separate?
Should I continue working or consider retirement?
Financial planning is an essential resource when receiving an inheritance. With added wealth comes additional tax, insurance and estate planning implications. Urist Financial and Retirement Planning can show you the current and future impact of your inheritance on current living standards, cash flow and future life style changes.
Urist Financial and Retirement Planning is poised and ready to assist you through all stages with the following services:
Consolidation and Retitling of Assets
Oversee Asset Transfers
Discuss and Prioritize Goals
Project Retirement Needs
Analyze Insurance Needs
Analyze Long Term Cash Flow and Net Worth
Create an Investment Plan Within Your Risk Tolerance
Minimize tax liabilities
Manage Investments
Monitor Results
Update Financial and/or Investment Plans
Each inheritance situation is unique and requires the knowledge and experience to ensure you do not make mistakes which can cost unnecessary taxes and penalties. Urist Financial and Retirement Planning has assisted clients with these issues over many years and can provide assistance so that your situation is handled correctly and efficiently.
Urist Financial and Retirement Planning can provide you with practical, independent, personalized, easy-to-understand information about your inheritance issues. We have the experience to answer your questions and assist you through all stages of your planning process.
If you would like to confidentially discuss your situation to determine if we can help, please call our office or click here to schedule a no-fee, no obligation appointment.